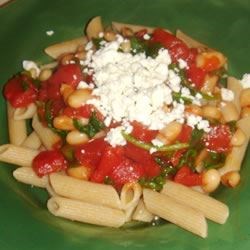 This is one of the better meals I have made in the past little while. So I thought I would share the love. It is uber simple and needs NO BLENDER or any other 'fancy' gadget.
What you will need:
• 2 (14.5 ounce) cans diced tomatoes.
• 1 (19 ounce) can cannellini beans (still have no clue what this is, so I used chickpeas), drained and rinsed
• 10 ounces fresh spinach, washed and chopped
• 8 ounces penne pasta
• 1/2 cup crumbled feta cheese
DIRECTIONS
1. Cook the pasta in a large pot of boiling salted water.
2. Meanwhile, combine tomatoes and beans in a large non-stick skillet. Bring to a boil over medium high heat. Reduce heat, and simmer 10 minutes.
3. At this point add your favourite herbs and spices.
4. Add spinach to the sauce; cook for 2 minutes or until spinach wilts, stirring constantly.
5. Serve sauce over pasta, and sprinkle with feta.
Enjoy every mouthful!